And the journey continues. I arrived in Christchurch, picked up my van from amazing guys at Escape Rentals http://www.escaperentals.co.nz and headed straight for the Arthur's pass to start off New Zealand portion of the trip.
This has definitely been the wildest, most personal and thought provoking trip so far. Travelling solo with the minivan is wonderful, but it's solitude also got very deep under my skin. There have been tough moments, but I am very thankful to this adventure and, in the end, I enjoyed it tremendously. This country captivated me by it's beauty and the feeling of remoteness of it all. It definitely has a rough side, but that is a big part of the allure.


The weather here is as wild as the country itself and all that jungle is not growing out of nothing. 3 days of rain sent my sun loving soul into a bit of a panic, so I decided for a slight change of course and headed north. From now on my travel companion is to be called Sunny, for our shared love of sunshine.
There is a good side to everything though - the rain did force me to slow down and dive into the world of books, sleep and laziness, which was really needed at the time. I spent long hours under the blanket with "Goldfinch" for company - thank you Dasha for recommendation, it is a great book.

Arrived in Port Nelson and the sun is out. Now just need to make sure no one steals my lunch))) Fish and chips from the harbour shop are divine!

My last stop on the South Island is Cable Bay camp near Nelson. It is a lovely, small camp near the ocean and rolling hills. The lady at the camp suggested a walk up the Sentinel hill nearby, which unveiled one of the most magnificent views I have experienced in New Zealand.
These unexpected wonders are always the best part of travelling, turning around the corner and suddenly seeing something that makes your heart beat faster.


Now we are leaving behind the wilderness of the South Island and heading north. Ferry crossing with some rough weather and later on pretty rough seas.

Having checked the weather & surf forecasts, I decided first to head to the centre of the island to see the volcano territory allowing rain to leave the coast in the meantime.
Tongariro National Park combines two active volcanoes - Ruapehu Volcano and Ngauruhoe with plenty of walks and some pretty tough tracks.
I badly underestimated how cold it gets in the area and was very much surprised to see such an amount of snow at the top. The pain was worth it though - the first view of Ruapehu volcano from the drive way was absolutely mesmerising.


I only wanted to spend a day in the area, hence decided for a small track around Mt. Ngauruhoe. The track covered waterfalls and the crater lakes and took around 5 hours to complete showing magnificent views of both volcanoes.
A very nice cafe in Taihape on the way to Rotorua.


Having dived into this peaceful setting I completely forgot about my camera, so don't have any photos of Rotorua itself.
The town is pretty touristic and not that pretty but there is certain magnetism to it. It is knows for geothermal activity and Maori culture, which you sense on every corner. I spent my time relaxing in hot baths and trying a traditional Maori healing massage at Wikitoria http://www.wikitoriamaorihealing.co.nz. They have a perfectly tranquil place on the lake and the practice itself was a very powerful experience hard to put into words.




In absence of photos from Rotorua, I wanted to show you Sunny's perfectly designed interior. I knew already my secret love for minivan travels but this was the first time I tried one on my own and for an extended period of time. And I must say I loved it! It was perfectly comfortable for sleeping and being able to travel without a set plan is a great privilege. I spent many days having breakfast next to beautiful bays overlooking the ocean.



And I have to share my 2 favourite foods uncovered in New Zealand. They were a large part of my camper van diet :)


Clever stickers arranged to make sure you don't forget to keep left.



And by this point I started to miss the ocean again. After a quick stop at Tauranga I headed to the legendary surf spot - Raglan. Initially I planned to spend only a few nights here but ended up staying for almost a week. Solscape camp ground, pictured here, was probably the best place I stayed in during my New Zealand travels. Beautiful view, nice facilities and great people for company. Raglan has an amazing vibe to it, very much a surfer town where time seems to slow down.




Seeing this amount of water around you is awe-inspiring.



Raglan surf saving club.
I owe these guys, big time!
Thank you!


After almost a week at Raglan I reluctantly decided to move on. Coromandel peninsular, Hahei Te Pare Reserve. Coromandel is a very beautiful place, more classic elegant beauty than the rugged beaches I always seem to fall for. It is also very touristic, being so close to Auckland, but still worth the visit.



My trip almost coming to the end, I still had one night to spend before heading to Auckland. I decided for a town called Piha, which is located a short drive from Auckland. Definitely a place worth seeing. The views are stunning! The beach here is treacherous though, swimmers and surfers should watch out.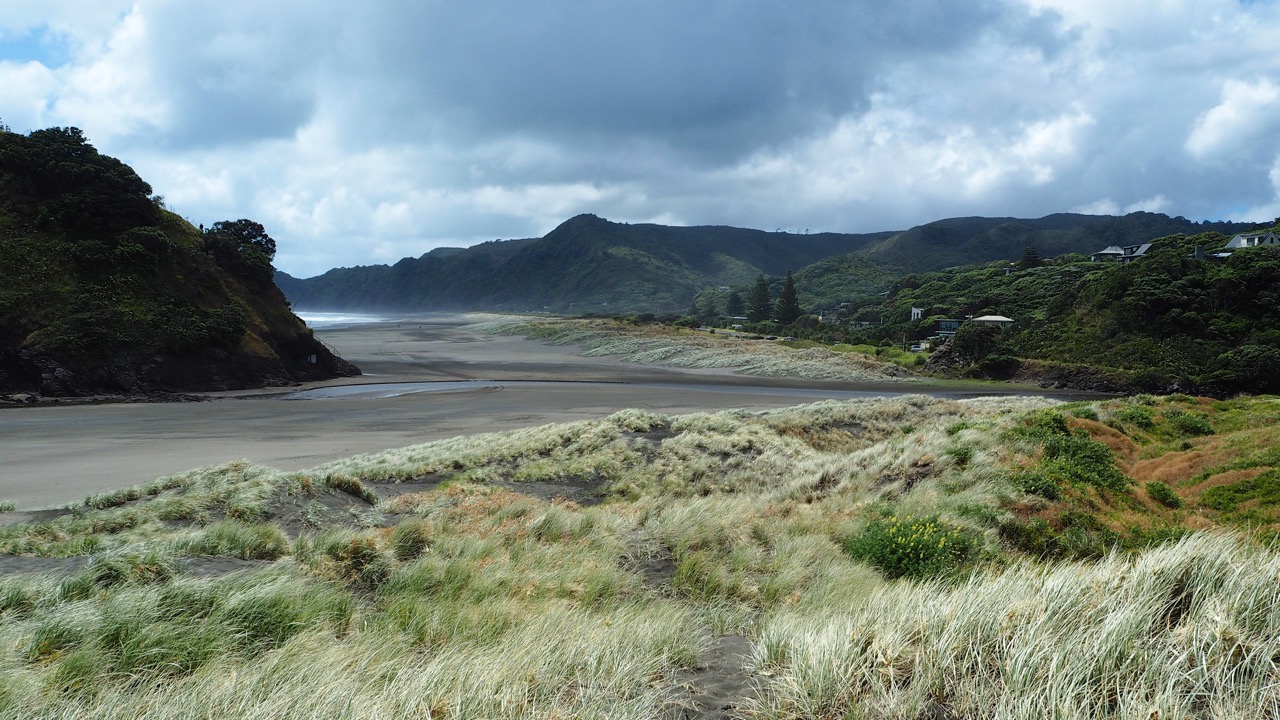 And my final stop on this adventure - Auckland - wandering around absolutely deserted city on Christmas day is a special treat.